Gaston's Going Places
By Madison Boles

●

May 10, 2022
Smart Brevity® count: 4 mins... 998 words
Back again with your latest Gaston County updates!
In this week's edition, we tackle all kinds of economic development, from large industry to small business.
Weren't able to join us for our breakfast series last Thursday? Don't worry, we have a recap below.
Thoughts or feedback? Email me directly.
Have a great week! - Madison
What's Happening in Gaston County?
Join us for conversation and connections with women from all over the county for PWA's first Social of the year!
Click here to RSVP
ICYMI: GBA Collaborate - Economic Development in Central Gaston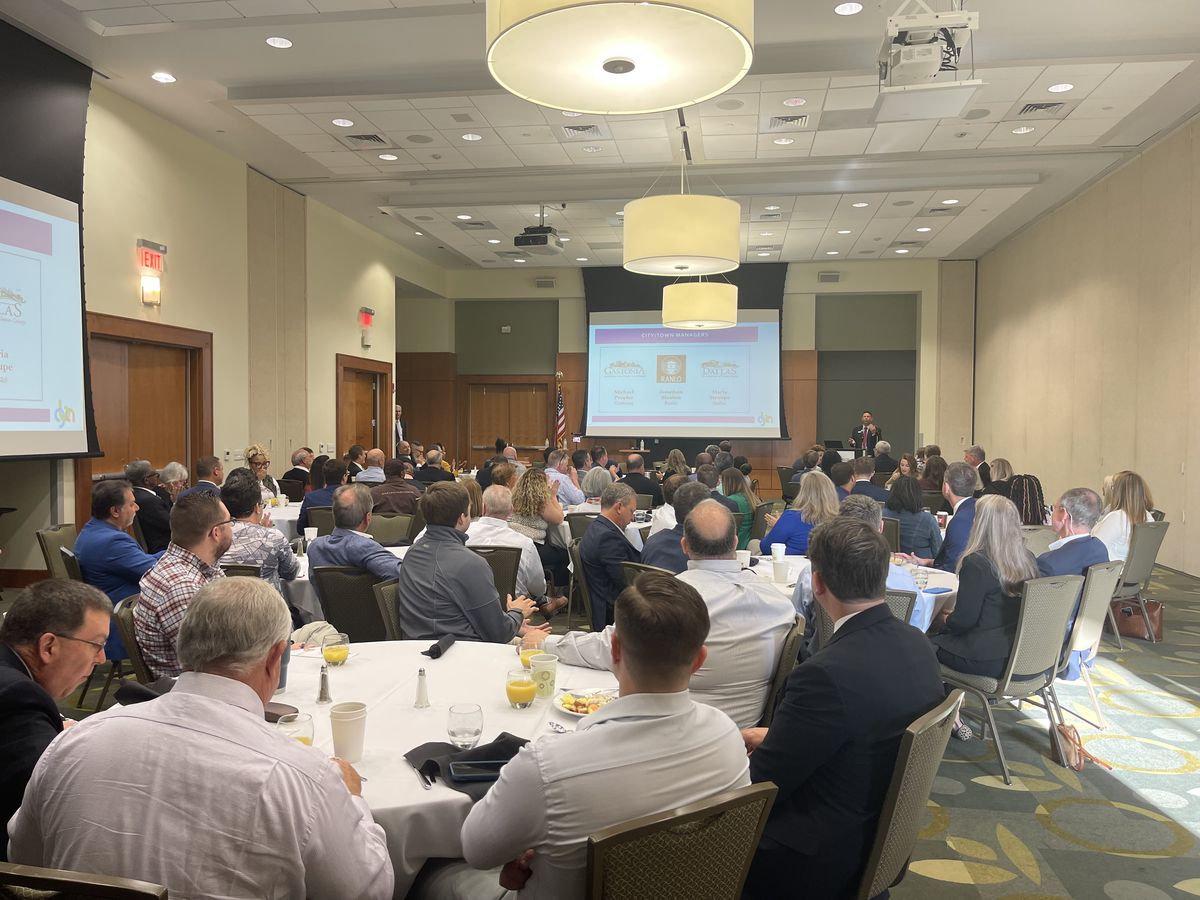 The big picture: The GBA hosted a full room of business leaders last Thursday to hear about the latest economic development activity in Central Gaston. With both public and private sector speakers, attendees received a full circle perspective of the current development climate.
Michael Peoples, City Manager of Gastonia highlighted Gastonia's Economic Development Strategic Plan with goals of a vibrant downtown, quality business locations, as well as improved transportation, infrastructure and streetscapes. He also provided updates about current and upcoming economic development projects including:
Gastonia Technology Park

Apple Creek Business Park

Delta Business Park

TRU Hotel

CaroMont Health Critical Care Tower

Center City Crossings

Linwood Springs Park and Howe's Landing

FUSE District Developments
Jonathan Blanton, Ranlo Town Manager emphasized Ranlo's meaningful approach to economic development, which places focus on infrastructure. Ranlo received $6.4M from NC General Assembly, $2M from the Consolidated Appropriations Act of 2022 and $1.1M from the American Rescue Plan Act.
Blanton also referred to projects consistent with Ranlo's Downtown Strategic Master Plan, which can be found here.
Maria Stroupe, Dallas Town Manager covered both residential and commercial projects in Dallas.
Residential numbers are climbing quickly with 912 approved homes, 323 under review, and 300+ acres with developer interest.

The most anticipated development in Dallas is the Gaston Regional Aquatic Center, a 34,000 sq ft facility with 1,200 spectator seats. Stroupe emphasized the facility's economic impact which will offer swim instruction, physical therapy, a training center, and competition venue for area swim teams.
Mark Miller, CEO of Highline Partners provided details on their contract to develop a mixed-use project at the former Central YMCA site on Franklin Boulevard. Miller shared his desire to create a project unique to Gaston County with input from the community. Read more about the project here.
Jim Morasso, Owner of Webb's Custom Kitchen expressed gratitude to Gastonia leaders for their collaborative mindset, a contributing factor in his further investment in downtown, including:
Rustin's Department Store - $3M project with retail and office space on the street level and three upscale luxury condos above.

Citizens National Bank - With a goal of business diversity, upscale dining will be featured on the first floor, and a business club and TechWorks, an innovative coworking space above.
Caleb Moore, Regional VP of NorthPoint Development discussed Gateway85, the largest economic development project in Gaston County at 365-acres. Moore mentioned a strong workforce as a contributing factor for choosing Gaston County for investment. Read more about the project here.
Go deeper: To review the full video of this event, please click here.
Growth in Gaston County is in Full Swing
If you build it - Have you seen more construction than usual on your commute? Noticed lots being cleared in your neighborhood? Rezoning signs posted across the County?
The bottom line: We know our county is growing by leaps and bounds, but for the specifics, we turn to the professionals.
Recently, Donny Hicks, Executive Director at the Gaston County Economic Development Commission, shared the full picture of development, project, and transportation updates with the GBA's Leadership Gaston class. We have broken down the information here for you to see exactly what is contributing to Gaston's growth.
You Asked, We Listened. COMING SOON: More Networking Opportunities!
In response to feedback from our Investors, the GBA has added monthly networking events to its roster. Look for Let's Do Lunches, Business After Hours, and Professional Women's Association Socials to add to your calendar. You can now register online for these highly anticipated, complementary events.
Meet new people, make business contacts, and support your fellow Investors by attending these events as networking returns with full force.
Mark your calendars:
Professional Women's Association Social - Thursday, May 12

Business After Hours: NGE Services - Thursday, May 19

Let's Do Lunch: Blossom Bakery - Tuesday, June 14

Let's Do Lunch: Mangiamo Italian Cafe - Tuesday, July 12
What Gastonia Redistricting Means For Your Business
Article Credit: Gaston Gazette
Gastonia City Council adjusted its six political wards to bring population balance between the six districts inside the city's limits. 
Why it matters: The changes, approved by City Council on May 3, altered all six districts in city. The wards play a role in representation and dictate where elected officials must live. 
Quentin McPhatter, the city's assistant manager, presented two scenarios at the May 3 meeting. The city approved "Scenario C," which can be viewed online along with other interactive maps showing ward layouts before and after the redistricting process. 
What they're saying: "We had some districts that weren't the ideal number of residents," said McPhatter. "This effort corrects that." 
By the numbers: Gastonia's population increased by 12% from 71,741 residents to 80,411 residents over the last 10 years. 
What is redistricting?
The city redraws district boundaries to make sure that voting power and representation in each ward is based on the most recent population data.
Why is the city redrawing ward maps?
Redistricting is mandatory under the equal protection clause of the 14th Amendment of the United States Constitution.

Redistricting is also a federal and state-mandated process for communities with district-based voting to ensure equal distribution of representation. 
What's next: McPhatter recommends residents contact city staff for any questions or concerns about the maps or redistricting process. 

Like this email style and format? It's called Smart Brevity®. Over 200 orgs use it — in a tool called Axios HQ — to drive productivity with clearer workplace communications.