NorthPoint Development opens Charlotte office as it builds out industrial portfolio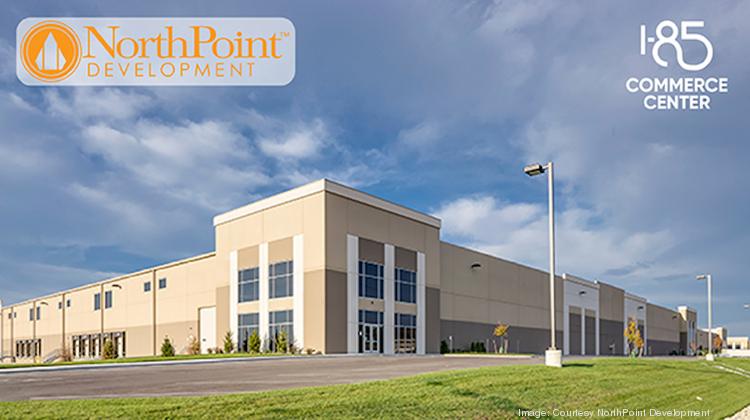 One of the biggest players in Charlotte's industrial development market has opened an office here and is moving ahead on several of its active projects in the region.
NorthPoint Development, which is based in the Kansas City area, has opened a Charlotte office to lead its Southeast operations. Caleb Moore is leading the office as NorthPoint's regional vice president and spoke this morning at a breakfast event hosted by the Gaston Business Association. He said the company is looking to have six to seven associates working out of Charlotte by this summer.
The office opens as the developer is hitting significant milestones on several large projects in the region with an eye on more activity in the near future. NorthPoint's most significant project is Gateway85, a 365-acre industrial park in Gaston County. It is also building I-85 Commerce Center, a 676,000-square-foot building in Salisbury, and just rezoned over 425 acres in Statesville for another project.
"There's just so much robust growth happening in the Southeast right now," Moore said. "Population growth is happening down here and just the current developments we have in North Carolina and South Carolina, it really made sense to have a physical presence down here so we could continue to build off of that momentum."
NorthPoint delivered the first phase of Gateway85, which includes two speculative industrial buildings totaling over 900,000 square feet, in recent months. Amazon.com Inc. has signed a lease to occupy the smaller, 286,275-square-foot building in that phase. Moore said today that NorthPoint is on the "1-yard line," for a lease of the larger building, which is over 620,000 square feet.
NorthPoint has also landed a 1.5 million-square-foot build-to-suit project at Gateway 85 under the code name Project Hearth. The Charlotte Business Journal reported last year that the company behind Project Hearth was Newell Brands. Between the completed first phase and the Newell Brands deal, those projects combine for about 2.4 million square feet of industrial space.
Construction on the next two buildings at Gateway85 is expected to begin this summer, Moore said. Those buildings will be around 700,000 square feet and 250,000 square feet, respectively, and represent the second phase of speculative development at the large industrial park.
Upon full buildout, Gateway85 is expected to include 4.5 million square feet of industrial space and around $350 million of total investment, Moore said.
NorthPoint formally announced plans for I-85 Commerce Center in Salisbury in September 2021. The project is expected to deliver this summer. As for the company's plans in Statesville, a full site plan has not been released yet. But Moore said NorthPoint expects to close on the land for the project this month and hopes to start construction in the weeks following the land purchase.
The developer has made a habit of moving to develop large speculative product in submarkets in Charlotte's surrounding region. NorthPoint took on Gateway85, which is on a site that Gaston County leaders attempted to make attractive for redevelopment for decades. That project has now helped spur an industrial development explosion in the county.
NorthPoint also was among the first developers in recent years to target Rowan County. It is building its own large speculative project now, but also developed Chewy's large fulfillment center just north of Salisbury, which local leaders have pointed to as a catalyst for more activity there.
"NorthPoint is a little different than other real estate developers in that most of our team is made up of guys that have a technical background, so we really pride ourselves on being able to figure out tough sites," Moore said. "We like to be the trailblazers. We like to be ahead of the curve and figure out where that next market is."
NorthPoint has other office locations in St. Louis, Chicago and Cincinnati, according to its website.