Economic Development Continues in Downtown Gastonia
After years of delays, developers break ground on project to bring downtown living to Gastonia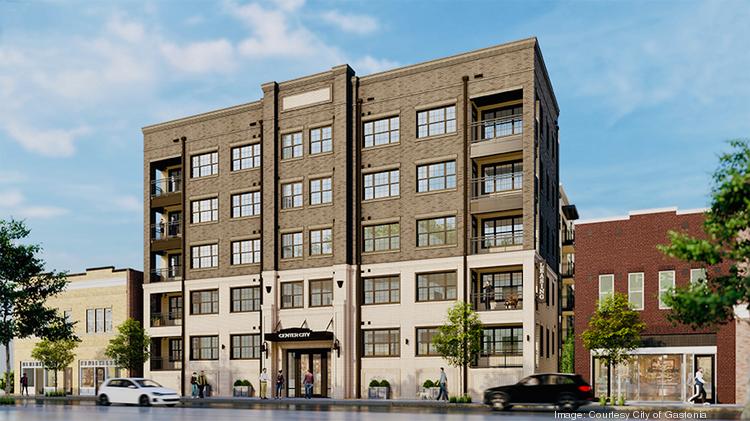 The Kuester Cos. has been planning its Center City Crossings project in downtown Gastonia for over three years. A slew of delays prevented the project from getting off the ground. That is until this week, when city and project leaders came together for a groundbreaking for the project.
Center City Crossings calls for the development of 90 apartments in a six-story building at 147 W. Main Ave. The $25 million project is expected to take around 18 months to build. For Kuester Cos., yesterday's groundbreaking was significant after working for years to bring its vision of a multifamily project in downtown Gastonia to reality.
"There were moments (of doubt)," CEO Faison Kuester told the Charlotte Business Journal. "We never lost our enthusiasm for the project. We had to go through Covid. We had to go through supply-chain issues. We had to go through inflation. It was one thing after another."
Kuester credited the persistence and partnership of Gastonia Mayor Walker Reid III and the city council for keeping the project alive. Had there been resistance from city leaders regarding the development, it would have been easier for Kuester and his team to walk away in the midst of the delays, he said.
City council approved an economic development agreement and the land sale for the project back in October 2020, with hopes of construction moving forward soon after.
Kuester and his team stayed the course in their pursuit of a project in downtown. Years ago, Kuester said, he looked at the Trenton Mill building while weighing a potential bid for its redevelopment, which is being done now by Lansing Melbourne Group. Ultimately, Kuester was most intrigued by the Center City Crossings site. He sought to meet a need for housing in the area.
"We kept coming back to the center city," Kuester said. "The city needs downtown living. ... This is special. We have a great affinity for downtown projects."
John Allen, the project manager over Center City Crossings, said the plan is to mobilize onto the site and be fully ramped up for construction by May 1. EMJ Construction is the general contractor, and Cline Design is the architect.
Center City Crossings will add another element to the commercial development momentum underway around downtown Gastonia. Much of it now centers around the Franklin Urban Sports & Entertainment District in west Gastonia, which aims to connect downtown to Loray Mill. FUSE is built around the new CaroMont Health Park and the Gastonia Honey Hunters, which will begin its second season later this month. Trenton Mill's redevelopment and a range of other commercial projects are also a part of FUSE.
But Kuester's project will bring something that none of the projects at the FUSE will — more people to live and invest in downtown Gastonia.
"I'm so proud to see how our city is transforming and what is ahead in the future," Reid said yesterday. "This project is definitely a game-changer."